CHINDOGU OR (UN)USELESSNESS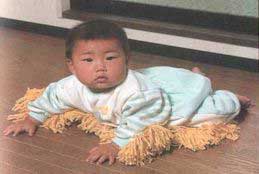 Chindogu
is the Japanese art of the
unuseless
invention created by
Kenji Kawakami
.
Chindogu is an invention that may appear to solve an everyday problem but isn't quite worth using, because it actually makes a task harder or is simply ridiculous.
Here is an example of a chindogu invention:
Baby Mops - one-piece baby clothes that will mop the floor as they crawl around...
To learn more about chindogu and see some of the actual inventions, which are hysterical, visit
Chindogu.com
Posted by lycos50 at 12:01 AM EDT