Xbox, Xmas, Ex-Child Actor
This week's Lycos 50 top search terms article is presented in full on the Lycos 50 blog while we feature the 2008 Top Toys & Video Games list on our front page. See you next week and may we add, Happy Holidays - Cheers!
---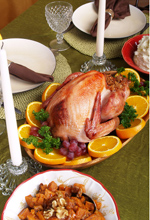 The kid who saw dead people has grabbed the paddles and given an electric jolt to his career. Haley Joel Osment is back, at #47, thanks to his Broadway debut in the play American Buffalo. Don't get too cocky though, kid – you still lag behind the increasingly obsolete US Postal Service (45).
Thanksgiving, which has been getting major props in this column, but hasn't been able to buy itself any street cred, is finally back, at #17. But alas, Turkey Day again takes a major back seat to Christmas, now tearing up the joint at #6.
Which brings us to Santa Claus, presently more popular than Beyoncé (41 and 42). She may be Sasha Fierce, but if she ain't leaving a new Xbox under the tree, she's playing second fiddle to the big guy.
Awkward segue mention of Xbox, which is registered at #24. Be sure to don the Kevlar when trying to pick one up on everyone's favorite day of organized chaos – Black Friday (33).
If all you want for Christmas is a significant other, or at least a booty call or three, the dating website plentyoffish.com is now on the board at #50. Ah, young love.
Hottie patrol, in descending order: Paris Hilton leads the league in hits at #1, followed by Britney Spears (14), Megan Fox (16) and Brooke Burke (27). And in a clear-cut case of naughty over nice: Playboy Playmate Kendra Wilkinson (28) edges out proud virgin cutie Julianne Hough (29).
The masses have spoken. And what they've said is the economy may not slow down the spending as much as expected this holiday season. At least not when it comes to video games and Holiday party dates. Carry on.
Posted by lycos50 at 10:04 AM EST