Woman Pregnant with 18th Child!
Michelle Duggar, 41, is due to give birth to her 18th child on New Year's Day 2009. All the Duggar children's name start with the letter J, the oldest child, Josh is 20 and the youngest, Jennifer is just 9 months. This fast growing family lives in Tontitown Arkansas in a 7,000-square-foot home where all the children are home schooled. Michelle Duggar has been pregnant for more than 11 years of her life and is now six weeks along with her latest bundle of joy. She and her husband Jim Bob Duggar says they will keep having children as long as God wills it.
The large family is currently in the process of filming another series for Discovery Health. The new show looks at life inside the Duggar home, where chores are assigned to each child. One episode of the new show involves a "jurisdiction swap," where the boys do chores traditionally assigned to the girls, and vice versa, Duggar said.The other Duggar children, in between Joshua and Jennifer, are Jana, 18; John-David, 18; Jill, 16; Jessa, 15; Jinger, 14; Joseph, 13; Josiah, 11; Joy-Anna, 10; Jeremiah, 9; Jedidiah, 9; Jason, 7; James, 6; Justin, 5; Jackson, 3; and Johannah, 2. There are seven sisters, 10 brothers and two sets of twins.
Pictured Below: Duggar Family in front of thier 7,000 Sq Ft Home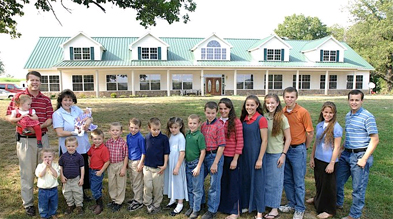 Posted by lycos50 at 4:22 PM EDT